'A changer, not a victim', meet Afghanistan's first female tour guide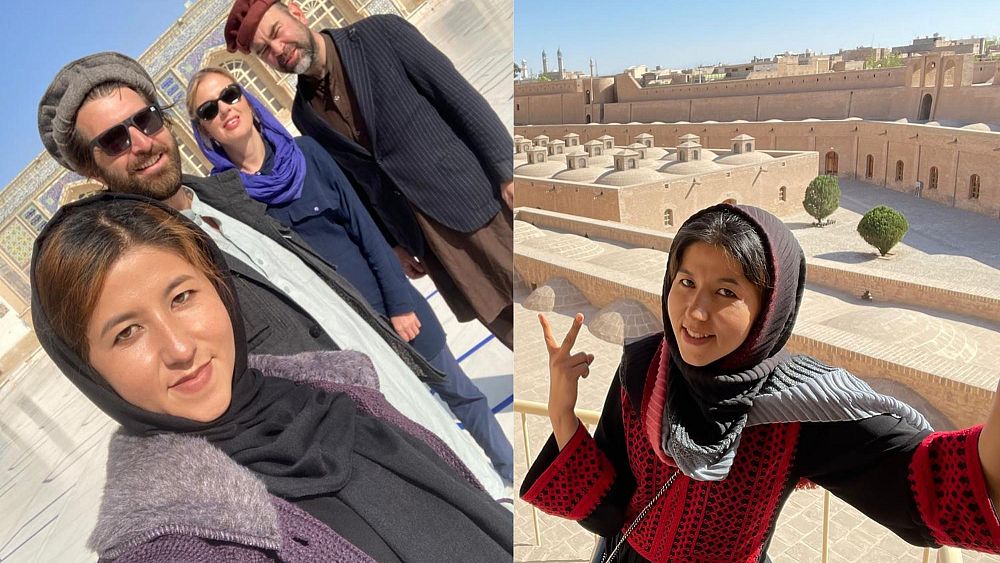 Welcome to Euronews Travel's Women Beyond Borders, the series that brings you real life stories from women around the world who lead brave and adventurous lives and overcome personal challenges on the road. These women live for travel and adventure.
While some travel the world in search of the most unique experiences or pursue a lifestyle that many would dream of, others are breaking the mold of traditionally male-dominated industries. We want our series to inspire you to believe in the power of your own dreams.
"When I decided to be a tourist guide, I first had to talk to my parents," Fatima told Euronews Travel.
"My father was immediately angry and he said to me: 'Fatima, are you crazy? Are you going to dig your own grave? It's dangerous for you. You're a girl, you can't do that."
But what a girl should or shouldn't do has never stopped 23-year-old Fatima Haidari from achieving her dreams.
No school for girls
Fatima lived in a small village in Ghor province until she was 10 years old. Girls were not given the opportunity to go to school, even boys who were allowed to go to school met their teacher in the shade of some trees by the river instead of a classroom.
As the youngest of seven siblings, Fatima's role was to tend the family's sheep and cows. However, as soon as she understood what education meant, she was determined to find a way to get it on her own.
The fact that there was no school building in the village worked in favor of Fatima. She could bring her cows and sheep to graze in the riverside pastures and at the same time hide and listen to the master of the boys.
At the age of 10, she and her family were forced to leave their home and move to Herat, a large city in western Afghanistan. There they lived in an old house with no windows or doors that had been destroyed by the Taliban 20 years earlier.
"My father was just a simple worker. He could only offer us very simple food so as not to starve," explains Fatima.
Without official papers, she could not attend a public school and without money, she could not afford a private school. For 3 years she stayed at home making crafts so she could buy books.
"Just seeing the beautiful girls wearing beautiful uniforms, in a way that made me cry. 'Why? Why can't I go? What's the difference between them and me?'" recalls Fatima .
"In a way, they motivated me to do something for myself and not just sit at home."
Determined to succeed
With a fire burning within her, Fatima began working day and night to produce more handicrafts to sell. Eventually, she saved enough money to be able to pay for her education.
Once in school, Fatima studied hard and was able to attend a program that taught refugee girls English. Within eight months she was fluent and her school invited her to become an English teaching assistant.
The money they gave her meant she could afford to stop doing crafts, go to school, and buy the books she needed. And with more time to study, she continued to work hard and eventually passed the college entrance exam.
Fatima's favorite field was journalism, a field her parents didn't really like.
"My father used to tell me: 'You must be a doctor'", says Fatima.
"My mother used to tell me: 'You have to be a teacher because it's good for girls. Journalism is for boys' or 'it's dangerous for a girl'. But I saw my future in journalism.
Find your way to the tourist guide
While in college, Fatima was tasked with researching the sights and history of Afghanistan. It focused on the city of Herat.
In order to practice her English and share what she learned, Fatima started posting to a group of social media travelogues. Her posts quickly caught the eye and soon after she received messages from tourists asking if she would have time to show them around her city.
"It was like a miracle, like a light in my heart," recalls Fatima.
In the weeks that followed, she was contacted by Untamed Borders, a travel agency specializing in adventure or "off the beaten track" travel. They had heard of his talent, his passion and his knowledge of his city and after having had the opportunity to show his skills, they offered him a job as a tourist guide.
"I wasn't sure if I would be accepted or not because I wasn't trained," explains Fatima.
"When one day, in fact, it was very important for me to succeed."
Women's empowerment
Besides building a career and becoming the first female tour guide in Afghanistan, Fatima wanted to help empower other women in a position similar to hers.
With a group of friends, she started an organization to help teach young women and girls to speak English. Thanks to donations from the local population, they gathered the material to set up their organization.
Funding from another organization meant they could also pay their teachers – and Fatima could pay her university fees.
Until she had to flee in 2021, Fatima also hosted a radio show called Winner Women which, like Women Beyond Borders, shared the stories of brilliant and inspiring women.
"When a woman in Afghanistan wants to be somebody, she has to fight," Fatima says.
"I remember the days when so many children hit me with a rock or the days when people on the street looked at me strangely, as if I had done so many bad things and […] saying so many bad words to me, insulting me.
I was like, 'Fatima, what they're doing is just asking you to be stronger, to work harder'.
"A changer not a victim"
At the moment, Fatima lives in Italy. When the Taliban took over Afghanistan in 2021, she had to flee the country.
She continues her studies and enjoys the opportunity to travel, learn and explore the world.
But for Fatima, it was never a final goodbye to Afghanistan and she awaits the day when she can return home safely.
"I really thank the Italians who have just opened their hearts to me and treated me like a human being," she told Euronews Travel.
"What I want now for the future is just change, because my motto is 'a changer not a victim'."
Looking to the future, Fatima sees big. She still wants to be a journalist, covering stories about women in Afghanistan. She wants to start her own tourism business, train and empower female tour guides.
"I will learn so many things and then I will apply everything I learned there in Afghanistan."
"I will do my best to do my best, to be the best and to help Afghanistan become a better place to live. When Afghanistan is a better place to live, the world is a better place to live.
Watch the video above to learn more about Fatima's incredible journey.