LOUISVILLE, Ky. (WDRB) — With more than 40 Kentucky Derbys under his belt, you'd be hard-pressed to find anyone who knows more about the history of Churchill Downs than Barry Northern.
Northern is a Kentucky Derby Museum tour director who has shown thousands of people around the iconic racetrack over the past 11 years.
The 148th Race for the Roses will be the Tour Guide's 43rd Kentucky Derby.
"Being able to come here and do tours around Churchill Downs is just a labor of love for me," Northern said. "This place means a lot to me."
The popular visitors to the museum are children, ranging in age from elementary to high school. Northern says the museum and tours have something for all ages and it's fun to teach kids about the trail.
"We have an education program where we can teach them math, science or history – all centered around horse racing," Northern said.
Barry often offers tours to guests on golf carts, taking them to areas like the paddock, Millionaire's Row, beside the track and back.
No matter where the tour takes you, as long as you ride with Northern, you're sure to learn something new, like the origin of the name "The Kentucky Derby."
Northern will tell you that the name comes from two Englishmen: the 12th Earl of Derby and his friend Sir Charles Bunbury. Derby lived on a large estate, known as "The Oaks".
"He had a 3-year-old filly and he thought she was very fast and wanted to race her against other 3-year-old fillies. They did it on his property and they called that race 'The Oaks', so now we run 'The Kentucky Oaks,'" Northern said. "After they did that, they said, 'We're going to have to do one with the male horses. ""
The men didn't know what to call it, so they tossed a coin and Derby won.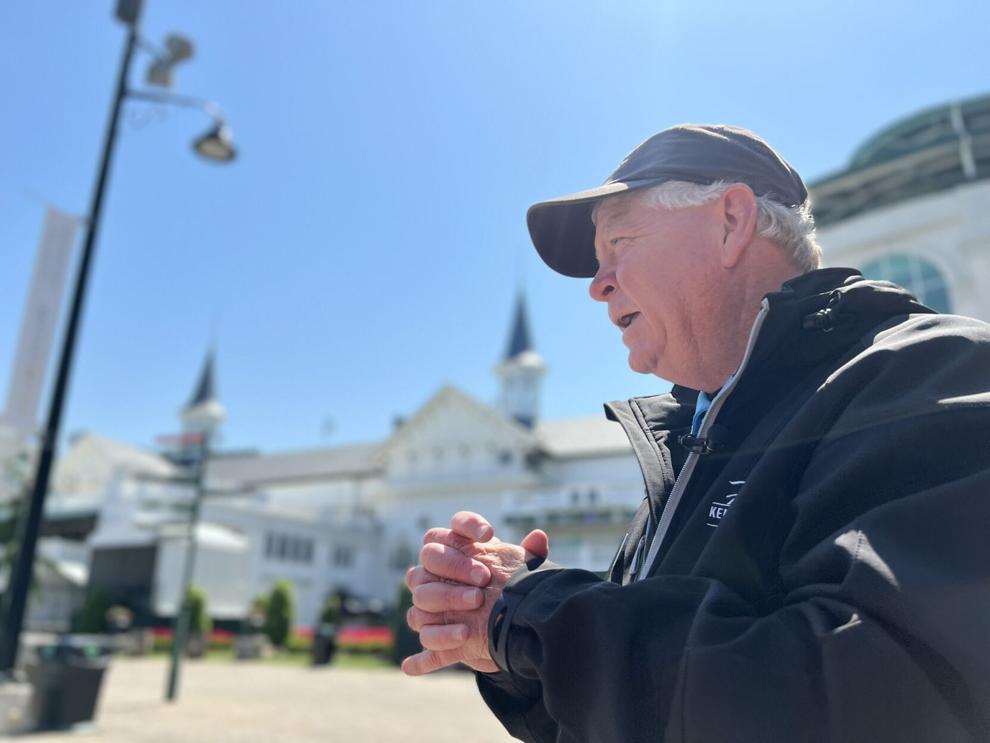 "So you could watch 'The Kentucky Bunbury' instead of 'The Kentucky Derby!'" Northern said.
Another piece of history that Northern likes to explain on tours is how it was determined that the Twin Spiers are the oldest part of the facility.
"One of the ways we know it is if you look over the arches [below the Twin Spires]you will see the initials "JC". The original name of this racetrack was not Churchill Downs, it was called the Louisville Jockey Club, so that's what JC stands for," Northern said.
The first races took place after the grandson of famous explorer William Clark raised funds to build the track on land owned by his uncles John and Henry Churchill.
"I think it was 1883 when someone in the local paper called this place Churchill Downs and then that name stuck," Northern said.
When taking guests to the Turf Club and the Roses Lounge, Northern says he likes to challenge guests to tell him their year of birth, and he'll give them a fun fact about who won the derby that year.
WHO WON THE DERBY WHEN YOU WERE BORN? If you ask @derbymuseumit's Barry Northern, he'll tell you! Inside the Turf Club are small plaques of each year's derby winner and winning hour. I put Barry on the spot with the 1997 winner "Silver Charm" – and he delivered! @WDRBNews pic.twitter.com/lq23xK1qIr

— Grace Hayba (@GraceHayba) April 27, 2022
The reason Northern says he knows so much about the track is because going there was a normal part of his life growing up.
He remembers regularly taking a bus with his mother or calling a cab if they were running late, so she could play the Daily Double. To win the Daily Double, you had to select the correct winners from the first two races.
"My brother and sisters went to school, my dad went to work and my mom and I came to the racetrack. My mom was worth $2 better, I never bet much more than that," said Northern. "There was really no reason for mum to come, or she didn't care, if she couldn't come here for the Daily Double."
As he drove the WDRB News crews around the track, Northern stopped his golf cart to show the 1921 Derby winner's plaque. The horse was called Behave Yourself and Northern laughed as he recounted how every time he was starting to act like a child, his mother would look at him and say "1921".
When it comes to watching the Derby, Northern says her memories start at age 5.
"When I was 5 years old, Uncle Joe pinned a button on me before I left to go to the racetrack and he said, 'I like Definitely like to sit.' I sat and watched Definitely win in front of this television black and white that day and I have a pretty good memory of all of them from that point on," Northern said.
The guide's first Derby Day on the track has gone down in history. On the day of the undefeated Run for the Roses by Secretariat in 1973, Northern says he sneaked into the Downs to enjoy race day.
"I snuck through a hole in the fence and headed for the tunnel because I wanted to get in the infield. I was 16 at the time and went out in the infield with my buddy Marty, and it opened up in our eyes, I can tell you," laughed Northern. "I had never seen anything like what was going on there."
After partying in the infield for several hours, Northern realized he hadn't seen a race all day due to the large crowd and decided to get a better view.
"I decided to walk home and watch it on TV, so I didn't see Secretariat, but if I had stayed in the middle, I wasn't going to see it there either" , said Northern. "When I tell this story to the younger people I work with at the museum these days, they want to know why I didn't just tape it. This was before the VCR, so I knew to see Secretariat I had to go home and watch it on TV."
Asked about the speed of the racehorse, Northern said he didn't really care which horse would win this year's Derby but would like Secretariat's record to remain intact as the 149 Derby will mark 50 years since the record was set.
While he missed the iconic run, Northern saw a rather infamous run the following year.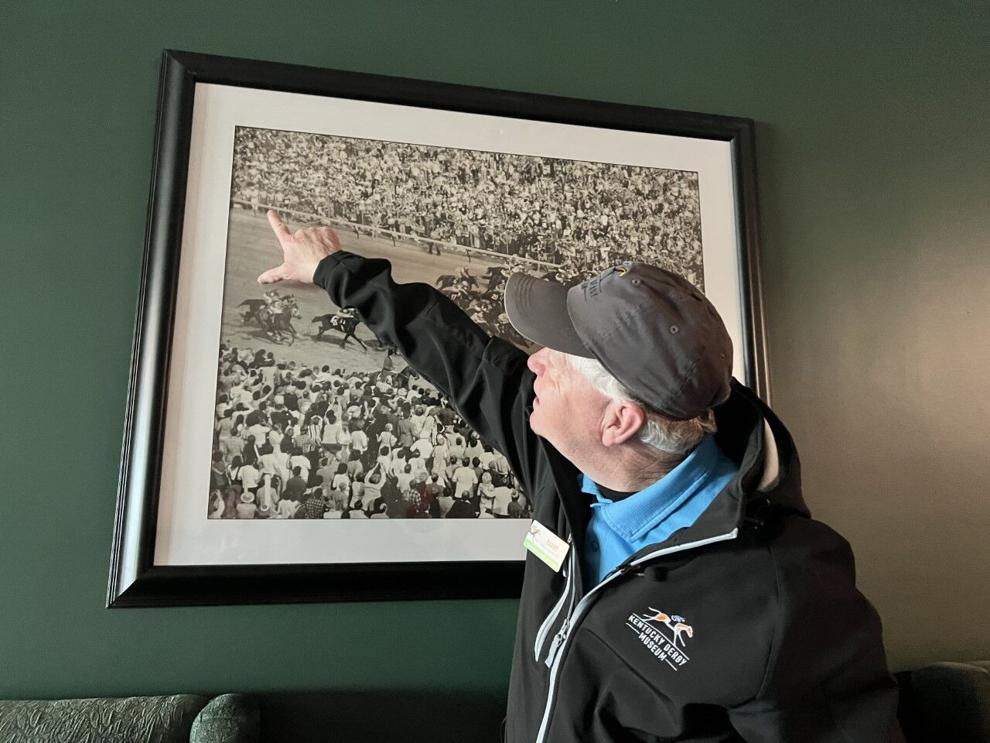 "As soon as the horses first ran there were two guys who hid under that rail and they crossed the race track right behind the horses. I never really understood what they did when they got to that side because they had left their clothes in the middle, so I'm not too sure. It was a crazy year, it was the 100th derby in 1974," he recalled.
Of all his memories, Northern says one of his favorite things about his job is the friends he's made over the years.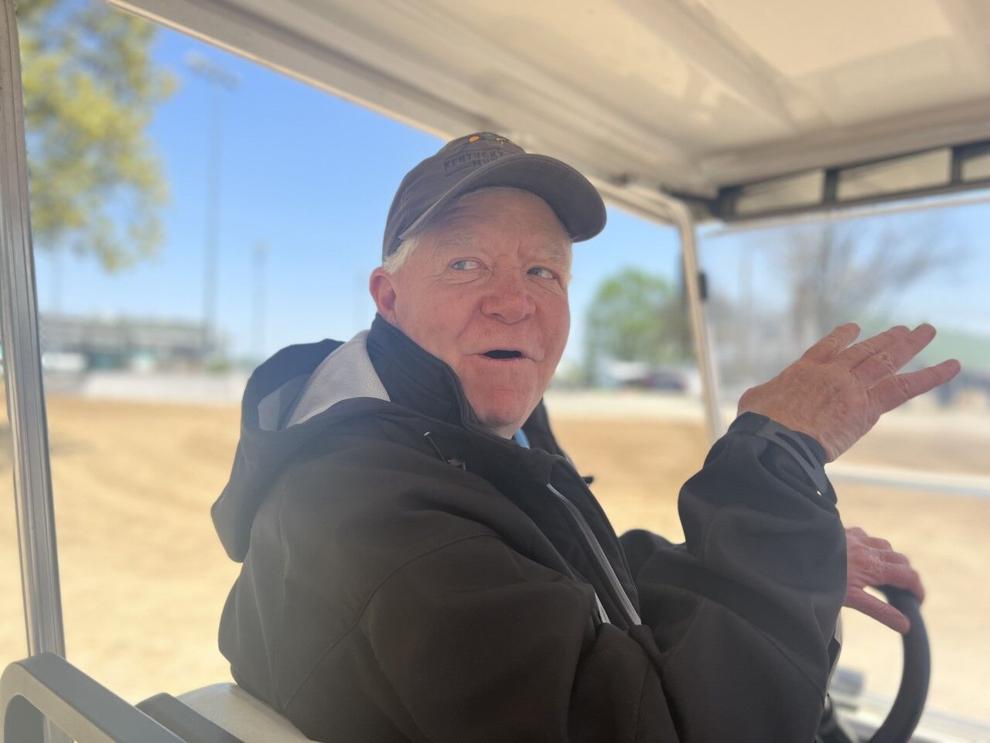 "A lot of these people from the neighborhood work here and I've lived here all my life, so I knew a lot of them before I started here," he said. "Those I've met here, especially in the back where the barns are, those people, I have such great respect for their hard work."
Northern says he personally knows many coaches he would like to see win the Kentucky Derby, so he bets with his heart more than he probably should.
"I really got to know some of these people there and I like to bet on horses and it probably hurts me because my heart puts a little more into it than maybe it should," said said Northern.
To register for a ride with the Kentucky Derby Museum, Click here.
Copyright 2022 WDRB Media. All rights reserved.